It's an easy, fun and fascinating way to safely collect and report water quality data
For Immediate Release: September 30, 2020
Photos available upon request
CHEVY CHASE, MD – The Audubon Naturalist Society (ANS) and Izaak Walton League of America (IWLA) have launched a brand-new version of Creek Critters®, an innovative smartphone app that empowers people to collect valuable data and report on local water quality. Using only a smartphone and a small aquarium net, everyone can learn about stream health and become advocates for their own natural resources.
"It always fascinates me to see how excited people get by discovering life in their streams," says Gregg Trilling, Conservation Outreach Manager for the Audubon Naturalist Society. "Creek Critters helps newcomers and experienced stream monitors alike experience that thrill of discovery."
Water quality in the United States is under threat from a wide range of sources, from excessive road salt use to stormwater runoff. Professional water quality experts are unable to monitor even half of the more than 3.5 million miles of streams and rivers across the country. ANS and IWLA have trained community scientists for decades to collect critical water quality data and engage local communities.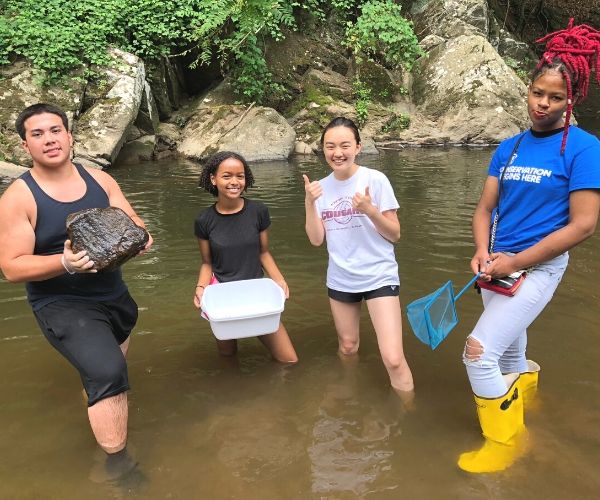 Creek Critters uses simple step-by-step instructions and an interactive guide to help users find and identify organisms in local streams. Collecting and identifying these small, fascinating animals, called benthic macroinvertebrates, is one of the most effective ways to assess stream health. Benthic macroinvertebrates live in creeks and streams and have different tolerance levels to water pollution. By identifying and reporting the macroinvertebrates they find in a stream, anyone, including students, can help paint a picture of water quality and pollution threats across the country.
"For students, Creek Critters is a splashy introduction to the stunning biodiversity that can be found if you learn to look," says Dani Moore, science teacher at Wilson High School in DC.
The data collected by app users is uploaded into the Clean Water Hub, the water quality database managed by IWLA. The first database of its kind, the Clean Water Hub brings together data collected by volunteers across the country in a single, user-friendly website.
"With the Creek Critters app now connected to the Clean Water Hub database, people across the country are empowered to do their own water quality monitoring, share their results and use their data," says Samantha Briggs, Clean Water Program Director for IWLA.
The app can be used by people working alone or by small groups, making it an easy activity to do while social distancing. It is also family friendly and can be used by schools, camps and clubs to educate and engage students of all ages.
The free app is available for download on iOS and Android devices.
Contact
Caroline Brewer
Director of Marketing and Communications
Audubon Naturalist Society
(240) 899-9019 or [email protected]
Gregg Trilling
Conservation Outreach Manager
Audubon Naturalist Society
[email protected]
Samantha Briggs
Clean Water Program Director
Izaak Walton League of America
(847) 650-5112 or [email protected]
###
About The Izaak Walton League of America: Founded in 1922, the Izaak Walton League of America (www.iwla.org) and our more than 40,000 members protect America's outdoors through education, community-based conservation, and promoting outdoor recreation.
About ANS: Throughout its history, ANS has championed nature for all by playing a pivotal role in conserving our region's iconic natural places from development including the C&O Canal, Dyke Marsh and, most recently, Ten Mile Creek. Past ANS member and board president, Rachel Carson, author of Silent Spring, is credited with launching the now global environmental movement. ANS's nature experts provide hundreds of opportunities each year for children and adults to enjoy, learn about, and protect the environment.
Follow ANS at: www.Facebook.com/Audubon Naturalist SocietyNaturalistSociety, www.Twitter.com/ANStweet
and @ANSNature on Instagram.