Helping to erase invisibility of the community is a goal
For more information, contact Caroline Brewer, [email protected] or 301-652-9188, ext. 23, Lisa Goodnight, [email protected] or 301-523-5394 or [email protected].
CHEVY CHASE, MD – When most Americans think of the great outdoors, images of Latinx families in parks, on hikes, talking meteorology, or the science of insects don't often come to mind. Enter Latino Conservation Week in 2014, with a mission to change that, and increase the visibility of what the Latinx community has been doing forever, connecting to nature in every way possible.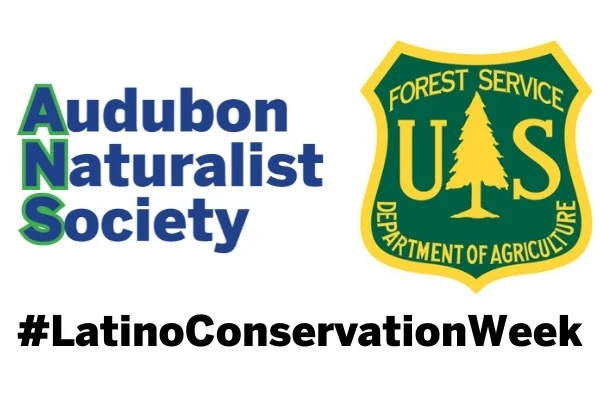 Latino Conservation Week 2021 runs July 17- 25, and ANS is offering the chance to meet ANS Adult Programs Director Serenella Linares, a Latina who makes learning about fungi and other natural wonders a great adventure!
Linares, co-chair of ANS's Naturally Latinos Conference, is leading local efforts to mark the first Latino Conservation Week at ANS, in partnership with offices of the U.S. Forest Service, Urban and Community Forestry, Civil Rights, Wilderness/Wild & Scenic Rivers and Defensores de la Cuenca.
Linares, the first Latina member of ANS's senior staff, is available for tours at ANS's headquarters and nature sanctuary. ANS speakers will address during evening Zoom talks the queer Latinx experience in the environmental movement, Latinx and the American Jobs plan, and fighting the good fight, locally, for Latinx communities. The week culminates Sunday with the FREE Bilingual Nature Walk at Rust Nature Sanctuary in Loudon County. Registration is required.
Latino Conservation Week was created to support the Latino community getting into the outdoors, participating in activities to protect our natural resources, and has helped expand their visibility and raise awareness of Latinx environmental contributions.
###
Follow ANS at: www.Facebook.com/Audubon Naturalist SocietyNaturalistSociety, www.Twitter.com/ANStweet 
and @ANSNature on Instagram.
About ANS: Throughout its history, ANS has championed nature for all by playing a pivotal role in conserving our region's iconic natural places from development including the C&O Canal, Dyke Marsh and, most recently, Ten Mile Creek. Past ANS member and board president, Rachel Carson, author of Silent Spring, is credited with launching the now global environmental movement. ANS's nature experts provide hundreds of opportunities each year for children and adults to enjoy, learn about, and protect the environment.