Parent Guide Provides Lowdown on How to Go From Screen Time to Green Time in No Time
For more information, contact Caroline Brewer, [email protected] or 202-830-5115 or or Lisa Goodnight, [email protected], 301-523-5394
CHEVY CHASE, MD – Just in time for summer, a brand new guide from the Audubon Naturalist Society offers families a little instruction book on how – and why — to help children engage with nature. The ANS Parent Guide: How to Help Children Fall in Love with Nature (and Why), was written by ANS naturalists and educators. The guide is a response to the public health crisis of Americans spending more time in front of screens than ever before, and a tool for parents looking for fun, safe, and developmental activities for children, now that school is out.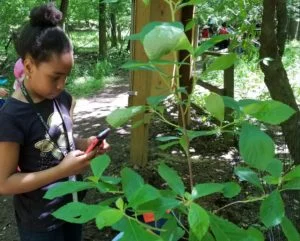 The Parent Guide includes 11 fun, educational, and inspirational recipes, such as building forts and dams, tracking animals, dissecting flowers, growing herbs, taking color and shape hikes, and making music with trees. Recipes always include key ingredients for success, such as sticks, rocks, old clothes, hula hoops, and rulers. The guide also highlights dozens of the DC region's most beautiful places to enjoy nature, meaning there are hundreds of ways to connect with the environment in this one handy book.
The "recipes" were designed with children 8 and younger in mind, but children-at-heart are invited to use it to explore as well.
The nature love book also offers links and summaries to scientific research about the physical, mental, emotional and social benefits of children spending more time outdoors.
"Let your youngsters be the master chefs of their environment!" the authors proclaim. "As your child's sous chef, you can provide the raw materials they need to create something magical."
###
About ANS: ANS is the oldest, independent environmental organization in the DMV. Throughout its history, ANS has played a pivotal role in conserving our region's iconic natural places from development including the C&O Canal, Dyke Marsh and, most recently, Ten Mile Creek. Past ANS member and board president, Rachel Carson, author of Silent Spring, is credited with launching the now global environmental movement. ANS's nature experts provide hundreds of opportunities each year for children and adults to enjoy, learn about, and protect the environment.
Follow ANS at www.Facebook.com/Audubon Naturalist SocietyNaturalistSociety and www.Twitter.com/ANStweets