Organizations, and elected officials, call for environmental, fiscal analysis of all traffic relief options before key vote advancing private toll lanes
For Immediate Release: June 5, 2019
For more information, contact Caroline Brewer, [email protected] or 301-652-9188, ext. 23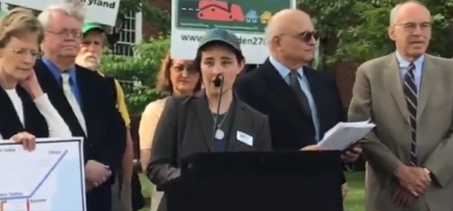 ANNAPOLIS, MD – On Wednesday, June 5th, state and local elected officials and advocates gathered near the Comptroller's office to urge the Board of Public Works to reject moving forward on an agreement that would green light Gov. Hogan's plans to add four privatized toll lanes on I-495 and I-270. The Board of Public Works, consisting of Governor Hogan, Treasurer Nancy Kopp, and Comptroller Peter Franchot, will vote Wednesday on whether to designate the highway expansion plan as a public-private partnership which would begin the process of soliciting vendors for the project. The vote comes after 50 state lawmakers and 43 organizations sent a letter to the Board of Public Works urging them to reject the agreement or delay a vote until an environmental and fiscal analysis is complete.
WHAT: Press Conference before key vote at Board of Public Works on 495 and 270 proposal
WHEN: Wednesday, June 5th, 9:00 AM
WHERE: Intersection of Bladen and Calvert Street, near Treasurer's office by Louis Goldstein statue Annapolis, MD 21401
SPEAKERS:
Montgomery County Councilmember Tom Hucker
Gary Hodge, former Charles County Commissioner and Regional Council Executive
Eliza Cava, Conservation Director, Audubon Naturalist Society & Vice-Chair, Stormwater Partners Network
Ben Ross, Chair, Maryland Transit Opportunities Coalition
Brad German, Co-Chair, Citizens Against Beltway Expansion
Eric Norton, Director of Policy & Programs, Central Maryland Transportation Alliance
Abel Olivo, Director of Outreach and Partnerships at Corazón Latino
###
Follow ANS at: www.Facebook.com/Audubon Naturalist SocietyNaturalistSociety, www.Twitter.com/ANStweet
and @ANSNature on Instagram.
About ANS: Throughout its history, ANS has championed nature for all by playing a pivotal role in conserving our region's iconic natural places from development including the C&O Canal, Dyke Marsh and, most recently, Ten Mile Creek. Past ANS member and board president, Rachel Carson, author of Silent Spring, is credited with launching the now global environmental movement. ANS's nature experts provide hundreds of opportunities each year for children and adults to enjoy, learn about, and protect the environment.