ANS Receives Highest Honor for Blazing Trails in Environmental Education
For more information, contact [email protected] or 301-652-9188, ext. 23, or Diane Lill, [email protected]
CHEVY CHASE, MD – From teaching thousands of children over the years how to grow their own food, to testing local streams for signs of aquatic life and the potential impacts of the climate crisis, the Audubon Naturalist Society (ANS), continues to blaze trails in environmental education and will be justly recognized for its outstanding efforts tomorrow at the Annual Maryland Green School Youth Summit at Sandy Point State Park in Annapolis.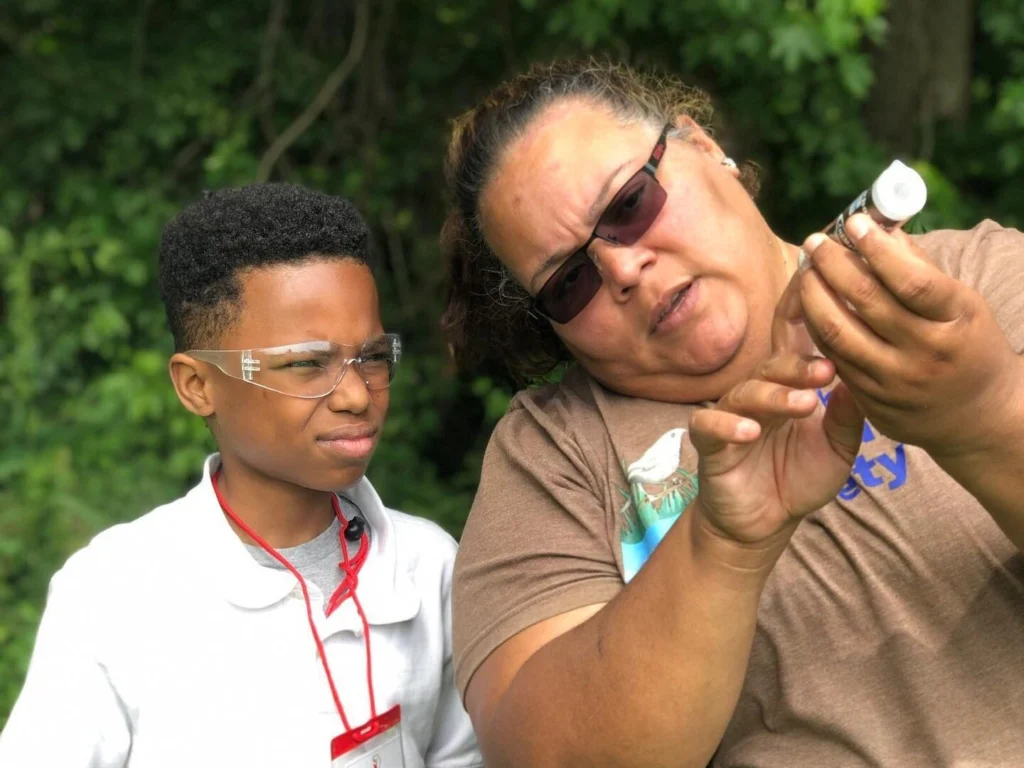 ANS, the DC area's longest-serving independent environmental organization, has been certified with the highest distinction, as a Sustainable Maryland Green Center, by the Maryland Association for Environmental and Outdoor Education (MAEOE). Green Centers offer support to schools participating in the Maryland Green School program and are considered essential partners for success. ANS has helped more than 60 schools win Green School certification since 2007.
Some of the children touched by ANS's GreenKids programs in Maryland schools grow up to mimic the songs of sparrows, hold forth on the habits of frogs and fish, and help us understand the necessity of butterflies, bees, and goldenrods. They grow into roles as community scientists and some step into professional roles to protect the environment.
"It's so rewarding to see students develop a deeper appreciation for the natural world. Some of them are just learning to read and write, but they are doing their part to take care of the environment and that makes my green heart proud,'' said Diane Lill, ANS's Director of Education. "The Audubon Naturalist Society is thrilled to be recognized for this labor of love."
The award signifies that ANS has made a commitment to developing stewards of the earth and reducing the environmental impact of schools.
"Students, teachers, school personnel, parents and community partners work together to create a positive learning environment. Green Centers support Maryland Green Schools, providing local support," says Laura Johnson Collard, MAEOE Executive Director. "Schools and Green Centers that participate in the program save energy; reduce waste; conserve water; and create and restore habitat; getting students outdoors is crucial for their connection with the environment."
###
About MAEOE: The Maryland Association for Environmental and Outdoor Education (MAEOE) is a non-profit organization. MAEOEs mission is to encourage, engage and empower the community to understand, responsibly use and promote the natural world. MAEOE's Maryland Green School program began in 1999. There are 636 active Maryland Green Schools, 31% of all Maryland schools. For a complete listing of Green Schools and Green Centers visit www.maeoe.org
Follow ANS at: www.Facebook.com/Audubon Naturalist SocietyNaturalistSociety, www.Twitter.com/ANStweet
and @ANSNature on Instagram.
About ANS: Throughout its history, ANS has championed nature for all by playing a pivotal role in conserving our region's iconic natural places from development including the C&O Canal, Dyke Marsh and, most recently, Ten Mile Creek. Past ANS member and board president, Rachel Carson, author of Silent Spring, is credited with launching the now global environmental movement. ANS's nature experts provide hundreds of opportunities each year for children and adults to enjoy, learn about, and protect the environment.