Visit our 40-acre Woodend Nature Sanctuary
8940 Jones Mill Rd. in Chevy Chase, MD.
Our environmental science programs are designed to meet Next Generation Science Standards (NGSS) as well as Maryland Green School certification components.
Discovery Hunt
While on a nature walk full of opportunities for sensory exploration, students will look under logs, listen for birds and feel tree bark as they explore biodiversity and observe creatures in their natural habitats.
Habitats
Students will explore our ecosystems by classifying animals into groups, learning about animal needs, adaptations and survival. During a hike, students will find many forest, meadow and pond creatures.
Decomposers: Life in the Soil
Students will learn about decomposers and how they help cycle nutrients through the ecosystem during an interactive hike that will have them rolling logs and looking for areas where decomposition occurs.
Life Cycles
During a naturalist-led hike, students will learn about life cycles of animals from our forest, pond, and meadow ecosystems.
Each one-hour field trip program is $210 for a group of up to 16 children, plus chaperones ($285 for 17-32 students). Please read our FAQ for other details before registering.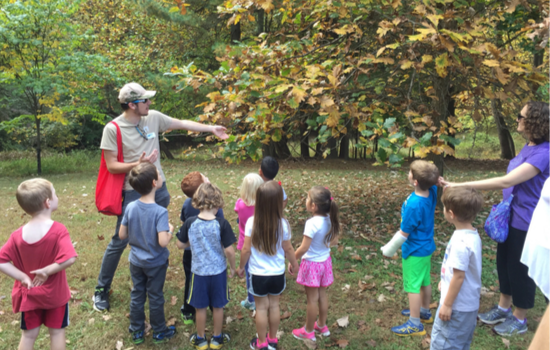 Questions? Contact [email protected]
Woodend Sanctuary
8940 Jones Mill Road
Chevy Chase, MD 20815
Trails are open daily from dawn to dusk.
Thank you for leaving dogs and other pets at home.