The Show, of Birthday Love for Carson, Will Go On (Online)!
For more information, contact [email protected], or 240-899-9019, or [email protected], or 301-523-5394
FOR IMMEDIATE RELEASE – May 21, 2020
Chevy Chase, MD – To honor the life and legacy of Rachel Carson, the mother of the modern environmental movement, the Audubon Naturalist Society is throwing her a Zoom birthday party starting at noon ET on May 27. Click here to register.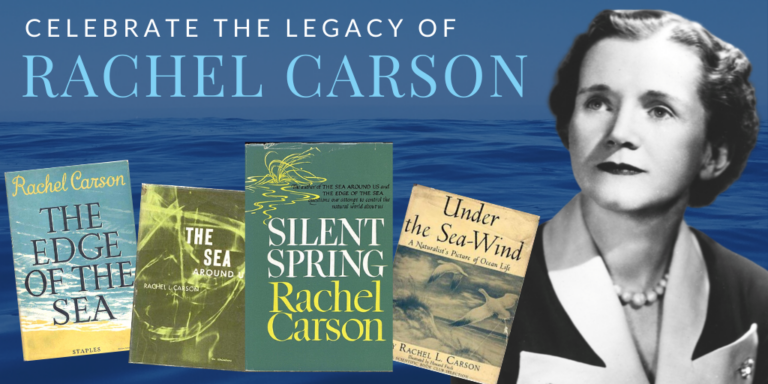 ANS has long and precious relationship with Carson who was a beloved member, former board president, and friend to many esteemed members of the organization. The celebration, hosted by ANS Executive Director Lisa Alexander, will feature women leaders and women in science reflecting on Carson's contributions to the world and their own careers. Special invited guests include Congresswoman Eleanor Holmes Norton, who succeeded in getting a National Park Service panel honoring Carson established in DC's Glover Archbold Park and her Definitive Biographer Linda Lear, a longtime ANS member.
ANS will pay homage to Rachel Carson by spotlighting women to be speakers who are persevering in her footsteps and forging their own paths. The pre-birthday celebration kicks off Memorial Day weekend with social media posts and the release of engagement tools, such as the region's FIRST interactive map of places in the Washington, D.C. region that honor Carson or that she in some way touched, along with downloadable activities for children and families
###
Follow ANS at: www.Facebook.com/Audubon Naturalist SocietyNaturalistSociety, www.Twitter.com/ANStweet
and @ANSNature on Instagram.
About ANS: Throughout its history, ANS has championed nature for all by playing a pivotal role in conserving our region's iconic natural places from development including the C&O Canal, Dyke Marsh and, most recently, Ten Mile Creek. Past ANS member and board president, Rachel Carson, author of Silent Spring, is credited with launching the now global environmental movement. ANS's nature experts provide hundreds of opportunities each year for children and adults to enjoy, learn about, and protect the environment.