Beyond Gas Since 2020
Nature Forward works with DC Sierra Club, Interfaith Power and Light, Chesapeake Climate Action Network, Washington Interfaith Network, and many other partners to help push the District to phase out methane ("natural") gas for heating and cooking as soon as possible. We are attacking this problem on many fronts, from testifying to the Public Service Commission that protects ratepayers' interests from being locked into dirty gas for another generation, to supporting strong and timely new Building Energy Performance Standards, to "sniffing" for gas leaks outdoors in 2020.
The District's Own Buildings Can Set the Standard
Most recently, we testified at oversight hearings for the DC Housing Authority and Department of Buildings urging them to quickly move the buildings under their control from gas to electricity.
In this year's Performance and Oversight Hearings, Nature Forward testified at committee hearings for the Department of Buildings and DC Housing Authority. As DC works to uphold its Climate Commitments, Nature Forward is advocating for an equity-centered climate strategy with solutions that consider all communities. Please read our comments below.
Healthy Homes for All!
Next, we're turning our attention to legislation: the Healthy Homes Act will protect DC residents from the climate and public health threat of burning fossil fuels in our homes. This legislation would allow low- and moderate income DC households to switch from fossil fuels to clean and efficient electric heating and upgrade to electric appliances with no out-of-pocket costs, including for purchase and installation.
In the Council's upcoming budget hearings, we will testify on the need to ensure that ALL of these initiatives are well funded and coordinated to move the city quickly off of methane gas and to clean, renewable electricity.
Live in Ward 7 or 8? Find out if YOUR home has unhealthy gas leaks!
Moving DC Beyond Gas is an important issue that intersects with climate, health, housing, and generational and personal finance. We understand that all residents do not have the resources or power to easily switch to electric. We want to educate residents on the health and climate impacts of gas and connect them to resources for all-electric retrofits to safely upgrade your home and not bear the financial burden when gas becomes more expensive. Nature Forward in collaboration with our Beyond Gas partners the DC Sierra Club, Interfaith Power and Light, and Washington Interfaith Network are performing educational demonstrations in residents' homes throughout 2023.
If you are interested in participating in this outreach opportunity or advocating in support of the Healthy Homes Act, please complete the form below.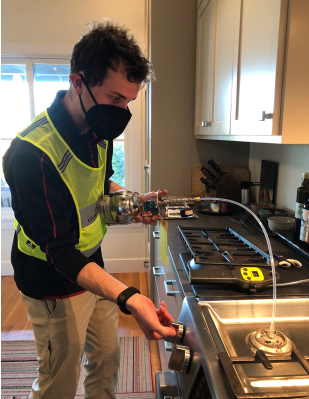 ---