Costa Rica:
A Trove of Tropical Birds and More
FULL
February 3 – 14, 2024
Optional extension to February 17
Leaders: Stephanie Mason and Carlos "Charlie" Gómez
Cost is $4,595 for Nature Forward members

This country's colorful birds—from the tiny Magenta-throated Woodstar Hummingbird to the rainbow-hued Keel-billed Toucan—will turn any nature enthusiast into a bird lover.
This trip is currently FULL, but please email [email protected] to join the waitlist.
This is an experience not to be missed! Explore the tropical wonders of Costa Rica alongside expert naturalists with more than two decades of experience working together to lead these amazing excursions.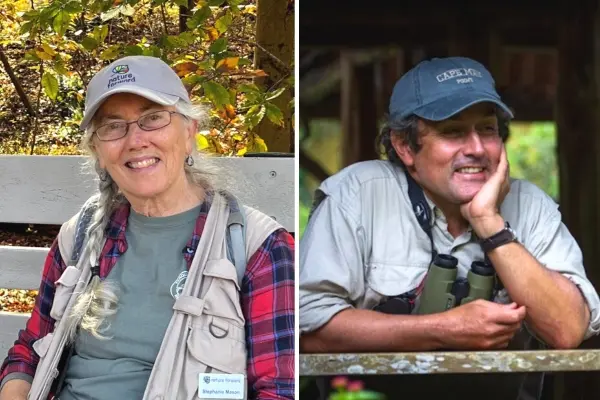 In addition to her deep knowledge of Costa Rica's bird species, Nature Forward Senior Naturalist Stephanie Mason knows much about its butterflies, plants, and tropical ecology.
Carlos "Charlie" Gómez is an extraordinarily talented naturalist and leader who can lure secretive birds out of hiding and identify them instantly by call. Everywhere he travels in his native country, he's greeted with admiration and respect.
Stephanie and Charlie have worked together to lead 22 previous trips to Costa Rica. They are celebrated for their superb record of delivering memorable nature travel experiences.
Join us to witness a wide variety of habitats where lessons about tropical ecology will surround you and tropical birds will dazzle you. The Caribbean lowlands of our first stop are classic tropical rainforest — a lush, luxuriant environment brimming with biodiversity.
Visit many different habitats to learn about tropical ecology and conservation while searching for birds and other wildlife.


Plant diversity is mind-boggling, birding is great, and other wildlife is abundant.


Costa Rica's tourism infrastructure is excellent. You'll enjoy comfortable lodges surrounded by excellent natural habitat.


An optional extension to the cooler mountain highlands features a different view of the tropics with towering oak trees and wild avocadoes providing habitat for birds such as Resplendent Quetzal and Fiery-throated Hummingbird.

Email [email protected] for more information.