This post was co-authored by Bronte Nevins (Nature Forward volunteer and Maryland Master Naturalist) and Renee Grebe (Nature Forward's Northern Virginia Conservation Advocate).
Have you ever forgotten your reusable bag while grocery shopping and had to use a disposable plastic one? As of January 1, 2022 in some Virginia locales, shoppers are paying 5¢ for each plastic bag they use. While it's technically called a "tax", Nature Forward refers to it as a fee, since you only pay for it if you use a disposable plastic bag.
Why do plastic bags now cost 5¢ each in some places?
Virginia's General Assembly passed "enabling legislation" in 2020 which allows locales to charge a plastic bag fee, and Fairfax County (and several others) then leveraged the authority to enact their own fees on plastic bags locally. This ordinance change to allow the fee in Fairfax County was passed in 2021 with the new 5 cent fee going into effect at the start of 2022.
What can that money be used for?
The state law restricts what the plastic bag fee revenue can be used for. This includes:
Environmental cleanup programs
Pollution and litter mitigation programs
Educational programs on environmental waste reduction
Provision of reusable bags to recipients of Supplemental Nutrition Assistance Program (SNAP) or Women, Infants, and Children Program (WIC) benefits
You can learn more on Fairfax County's plastic bag fee website: https://www.fairfaxcounty.gov/environment-energy-coordination/disposable-plastic-bag-tax-fairfax-county 
Does 5¢ a bag add up to anything useful?
Unfortunately, it does. This fee has "regrettably" raised approximately $2 million in its first year of implementation. Fairfax County's Office of Environment and Energy determines how to allocate the money collected (see more on that below!)

The disposable bag fee provides a new and significant revenue stream that can be used to help clean up the harm done to our environment by single-use plastic bags and also help fund other initiatives to clean our streams.
Just how many bags is that?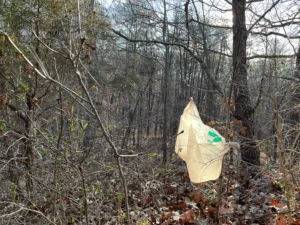 70 million bags in eleven months.

Here's the math:
Through November 2022, 5¢ bag fees brought in $2.1 million.
As of 2022, Fairfax County gets to keep 3¢ of each bag purchased.

Retailers retain the other 2¢ of the fee to ease the transition to more sustainable packaging.
As of 2023, Fairfax County will get to keep 4¢ and retailers will keep 1¢.

If we divide $2.1 million by 0.03, we get $70 million.
Will this fee reduce our reliance on plastic bags?
Similar programs have been implemented in many other locales. DC has had a bag tax since 2010, after a study found that plastic bags were one of the most common types of litter found in the Anacostia River. DC's bag tax raised $1.5 million in its first year and has subsequently reduced plastic bag pollution in the watershed by 72%. A 2013 survey correspondingly found that DC's bag tax drove a 60% decrease in plastic bag use.
While the overall purpose of the plastic bag fee is to increase awareness of the negative environmental effects of plastic bags and reduce their use, DC's bag tax has also consistently generated substantial revenue over the last decade. In 2021, the most recent year that DC has data for, the bag fee raised $1.9 million.
Time will tell if the bag fee in Fairfax County will follow a similar trajectory, and we'll be keeping an eye on it.
How will Fairfax County spend the revenue from this fee?
Fairfax County's Office of Environment and Energy (OEEC) helps to facilitate disbursement of the funds received each month from this fee.

As of fall of 2022 (the most recent appropriations data), $668,460 was used to fund a wide variety of projects, in accordance with state law, including, but not limited to: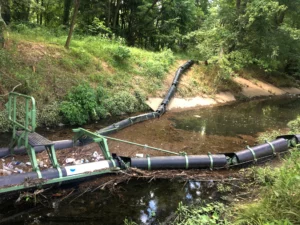 $370,000 for Operation Stream Shield (website)
$183,000 for various waste collection and reduction efforts
$60,000 for Storm Drain Education and Labeling Projects (website), an activity Nature Forward also does as part of our watershed outreach and education.
$20,000 for maintenance of the county's only "Bandalong" trash trap (on Little Hunting Creek)
$16,000 for distributing reusable bags
$5,000 for volunteer stream cleanups
Spread the word!
Tell your friends that we'd prefer less money come in for these fees and that we'd consume fewer single-use plastic bags! Don't forget to keep using your reusable bags!
---