Written by Nature Forward Volunteer Anne Cottingham (edited by Denisse Guitarra)
Take Action Now!
12/8/22 Update: Planning Board approved and passed the Final Climate Assessment process and will updated assessments as needed within a 2 year cycle. See full hearing here starting around 2 hours and 30 mins.
On December 8th the Montgomery Planning Board will have a meeting to review the new Climate Assessment Report. This is a crucial step that will add a climate change review process to all master plans and zoning text amendments (ZTAs). Read more about this process below and get ready to send in your own comment.
You can submit written comment and/or sign up to testify using the form linked below. Make sure you write/or say in item #8 when testifying or submitting writing comments.
Nature Forward sent in organizational comments of our own:
You can use our talking points below, but please use your own words:
We support:
The process as a whole – all these decisions SHOULD be reviewed through the lens of climate change
The inclusion of transportation, building emissions, energy emissions, and land cover & management as part of the greenhouse emissions (GHG) scoring.
The commitment to do the deepest analytical work on Master Plans (vs smaller plan amendments and ZTAs) because they have the longest review period of approximately 18 months.
We recommend changing:
Some ZTAs will need a more comprehensive GHG accounting than the report recommends. For example, draft ZTA 20-07 which would allow more duplexes, townhouses, and apartments in R-60 zones within 1 mile of Metrorail transit stations, could benefit from a more extensive GHG study showing how carbon would be released in the form of trees cut down by densifying around transit corridors, vs the carbon saved by transit-oriented development.
Keep Data Up to Date: Continue to use the best available data to create the most accurate climate reports, and review data sources on a regular basis. For example, for forests loss we recommend using the recently published Maryland Forest Technical Study by the Harry Hughes Center.
Want more background? Keep reading below!
---
Background on Previous Montgomery County Actions to Address Climate Change
In 2017, the Montgomery County Council approved the Emergency Climate Mobilization Resolution 18-974 to
Declare a climate emergency and;
Support the goals of reducing greenhouse gas (GHG) emissions by 80% by 2027 and reaching 100% elimination by 2035 and initiating large-scale efforts to remove excess carbon from the atmosphere.
These actions led to the issuance of the Montgomery County Climate Action Plan (CAP) (2021). The CAP describes actions designed to help MoCo cut GHG emissions by 100% by 2035, compared to 2005 levels. In coordination with the CAP, Montgomery County also has issued Thrive Montgomery 2050. This updated general plan, which governs future land use and development, establishes land use goals related to economic health, equity, and environmental resilience to be met during the next 30 years.
Read more on Nature Forward's CAP and Thrive work.
2022 Montgomery County Legislation on Climate Assessments
On July 25, 2022, the Montgomery County Council signed Bill 3-22, "Climate Assessments." This bill created a new requirement for the preparation of a "climate assessment" for each bill, zoning text amendment (ZTA), master plan, and master plan amendment under consideration by the County Council. The preparation of climate assessments under Bill 3-22 is intended to increase the Council's understanding of the climate impacts of proposed legislation, ZTAs, master plans and master plan amendments before the Council. In turn, the information in these climate assessments should facilitate more efficient, effective, and informed Council decision-making during its review of bills, ZTAs, and master plans.
The MoCo Office of Legislative Oversight (OLO) will prepare climate assessments for each bill under consideration by the Council. The MoCo Planning Department will prepare climate assessments for each zoning text amendment (ZTA), and each master plan under consideration by the Council. The new Climate Assessments will complement the already required Economic Impact Assessments and Racial Equity and Social Justice Impact Statements for bills under council consideration.
MoCo Planning Dept. Process for Conducting Climate Assessments
In response to Bill 3-22, the Planning Department engaged a consultant, ICF, to develop a methodology/tool to conduct the new climate assessments. The Planning Dept. also reached out to a group of stakeholders to provide feedback on the new methodology as it was developed. This stakeholder group consists of individuals, environmental organizations, Planning Dept. and ICF staff subsequently held three zoom meetings (in September, October, and November 2022) with stakeholders to discuss climate assessment methodology. Two Nature Forward volunteers, myself and Pia Iolster, served on the stakeholder group.
Montgomery Planning will be creating a website with all information about the Climate Assessment including the final report in the next upcoming weeks and will be available for the public to see. By January 1, 2023, OLO is required to begin preparing climate assessments for bills before the MoCo Council. By March 1, 2023, the Planning Department is required to begin preparing climate assessments for ZTAs and master plans before the MoCo Council. See full timeline below.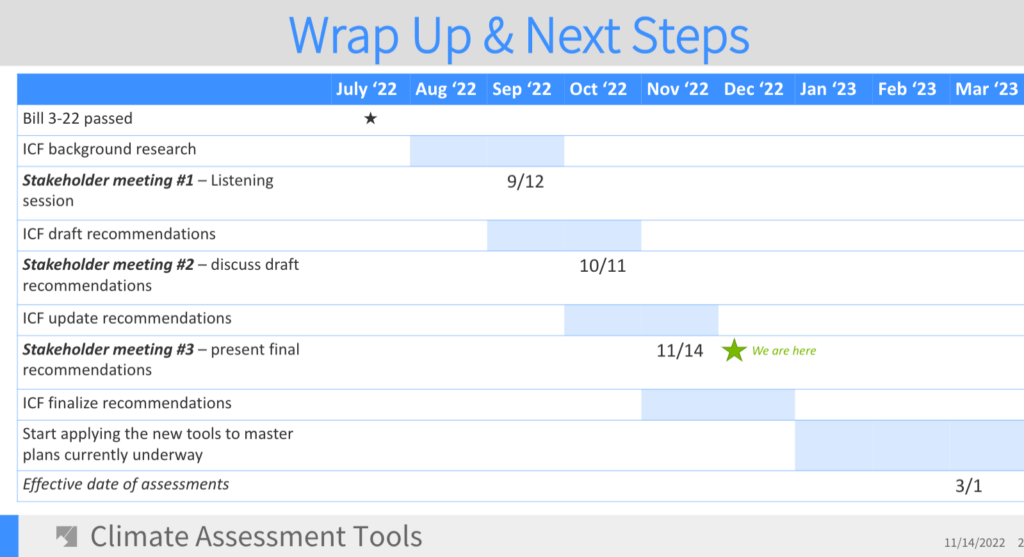 ---