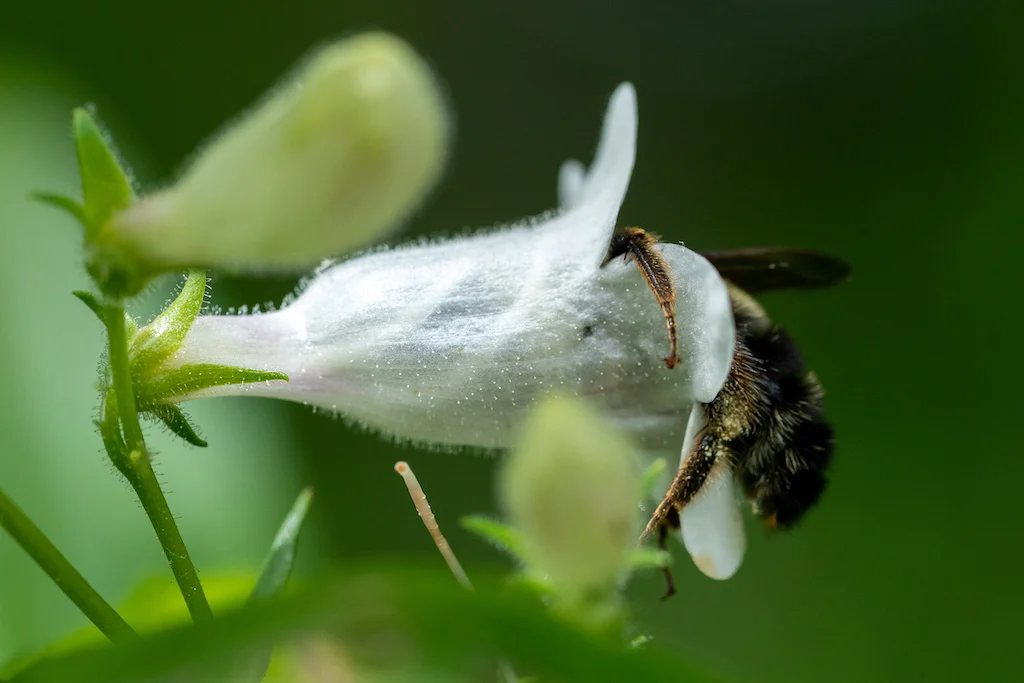 Woodend Seasonal Highlights
Preview some of the Woodend's natural treasures by season and be sure to visit in person, too!
April
Drop by our Blair Native Plant Garden, just outside the Sanctuary Shop, during April to enjoy the earliest blossoms of spring. Showy Bloodroot is likely to have come and gone, but Spring Beauties should be at their finest on sunny days throughout the month. Dutchman's Breeches, Virginia Bluebells, and Moss Phlox add bright hues to the garden, as Flowering Dogwood blooms overhead. The shad run starts in April, so don't be surprised to find Shadbush, also called Serviceberry, bursting into bloom. And this list is only a starting point, as many other species in the garden respond to warming soils and seasonal rains.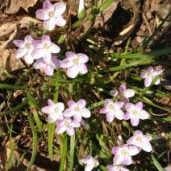 Spring Beauties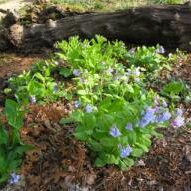 Virginia Bluebells
May
The greening of the Blair Garden continues throughout the month of May. Ferns have broken ground by now, and the new fronds of Christmas, Royal, and Maiden Hair ferns, to name a few, are lovely. Wild Columbine displays its showy hoods, alongside the blossoms of Wild Geranium. Look under the White Pine for Wild Stonecrop, Wild Ginger, and Partridgeberry, all native groundcovers suitable for a home garden. By the end of the month, the garden's spring ephemerals—such as Dutchman's Breeches, Rue Anemone, Virginia Bluebells, and Spring Beauties—will have set their fruits and mostly died back, ending their short but glorious spring show.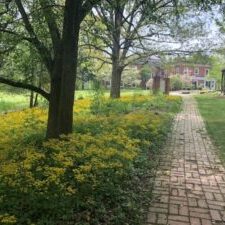 Golden ragwort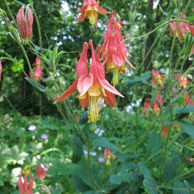 Wild Columbine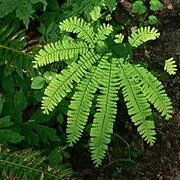 Maiden Hair Fern
June
The striking, white flower spikes of Black Cohosh light up the garden as summer officially arrives. Also called Fairy Candles and Black Snakeroot, this species thrives in woodland where there is mixed sun and shade. Surprised to see a cactus in our garden? Eastern Prickly Pear grows throughout the mid-Atlantic, in sunny, well-drained habitats as close as Great Falls. Look for its crinkly, yellow blossoms this month. Two shrubs, both suitable for home gardens, also start flowering in June. The Pasture Rose sports fragrant pink blossoms, while the moisture-loving Buttonbush attracts butterflies and native bees with its orbs of tiny white flowers. If you don't have time to visit the higher elevations of our region this summer, enjoy a walk through the garden's montane stretch where Wild Bleeding Heart, Goat's Beard, and spreading sedges grow.

Eastern Prickly Pear

Fairy Candles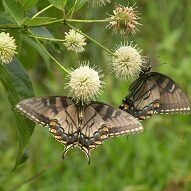 Buttonbush
July
Wetlands in our region thrive on the sunny, muggy days of July, so this is a good month to check out some of the native species in our garden which favor moist soils. Look for most of them in the Coastal Plain section, near the benches and the water feature. Have a seat. Maybe you'll be lucky enough to see a Ruby-throated Hummingbird feeding on the crimson blooms of Cardinal Flower. Notice the lavender blossoms of the nearby Monkey Flower. On your right, consider the Soft Rush and the Royal Fern, neither of which sport bright colors, but both of which add natural, sculptural elements in a garden. By the end of the month, the towering Swamp Rose Mallow should be in bloom, beginning its showy display which lasts through late summer.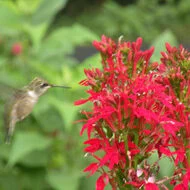 Cardinal Flower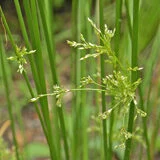 Soft Rush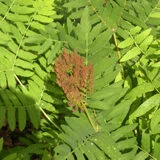 Royal Fern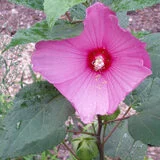 Rose Mallow
August
August is the month when we start to enjoy the first blooms of the so-called Confusing Composites. Species in this huge plant family—asteraceae—are characterized by heads of many tiny flowers packed tightly together. Did you know that the radiating, petal-like parts of a daisy are actually individual flowers? Most composites are sun-lovers, and many will bloom until the first frost. In our Garden, the pink Joe-pye Weed and the fuschia Ironweed are highly attractive to butterflies. In wet years such as this, both of these species can grow to 6 feet-plus, so we cut them back a foot or so in June. Don't worry, they quickly sprout new and bushier growth. Hyssop-leaved Boneset, Smooth Aster, White Wood Aster, and Blue-stemmed Goldenrod join their taller cousins in our late summer garden. If you visit this month and catch a pleasant scent, it's probably the Sweet Pepperbush, whose August blossoms draw in many pollinators.

Joe-pye Weed

Smooth Aster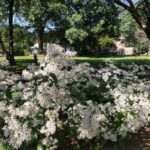 White Wood Aster

Blue-stemmed Goldenrod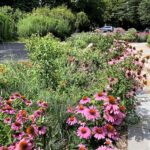 Purple Coneflower
September
With the flip of a calendar, summer's passage is clear. Yet, there is still plenty of colorful bloom during September in the Blair Garden. Thanks to our mild, mid-Atlantic climate, asters, goldenrods, eupatoriums, and others of their kin will continue to flower until shorter days and chilly nights shut them down. Now is a good time to take note of the flowering and fruiting grasses in the sunny end of the garden, near the benches. Often overlooked by home gardeners, native grasses add structural interest throughout the fall and winter, while providing vital food and cover to songbirds. Check out our small stand of Big Bluestem, also called Turkey Foot, and the nearby cluster of Switchgrass. Both of these species are dominant members of the Tallgrass Prairie ecosystem, which once covered vast areas of the central United States. In the Northeast, these grasses grew naturally where there were forest openings or rocky barrens–and they continue to do so today. Look for the showy, but shorter, Purple Love Grass, whose stature is confirmed by one of its other common names: Petticoat Tickler. You can study our patch of Little Bluestem, a species that can withstand drought and neglect, just inside the lower gate.

Big Bluestem flowers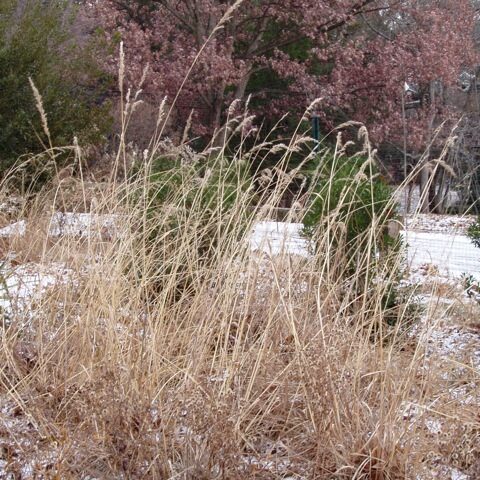 Switchgrass in winter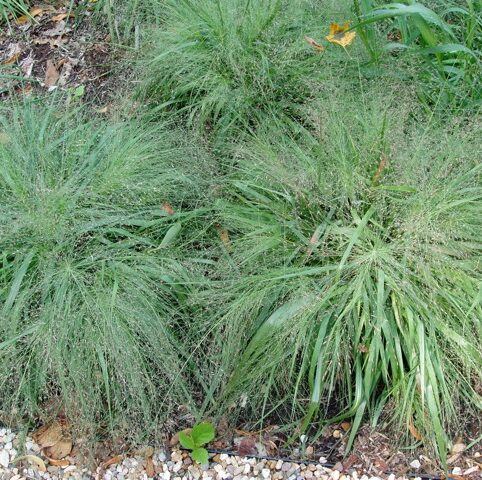 Purple Love Grass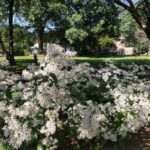 White Wood Aster
October
There are many ways to incorporate fall color into a native plant garden, and an October stroll in our Blair Garden bears this out. With the season's shorter days and dropping temperatures, the depletion of green chlorophyll reveals bold, golden hues in the leaves of Spicebush and Pawpaw. In the Serviceberries, also called Shadbush, leaves take on varying shades of vibrant crimson and orange. But in some plants, it's not the foliage but rather the fall seedpods, botanically called fruits, that grab the eye. The cherry-red fruits of Winterberry, a deciduous species of holly, are showy now—and will be so throughout the winter. On Strawberry Bush, nubby hot-pink fruits open up to reveal scarlet seeds, giving rise to the shrub's other colorful name: Heart's a Burstin'. There are even lingering blooms on the Smooth Aster (lavender), Heart-leaved Aster (white), and Wild Bleeding Heart (fuchsia), adding spring-like contrast to the dominant earth tones of autumn.
November
'Neath the pines, 'neath the pines, where the sun never shines.So go the lyrics to an old-timey song. Not only do the needles reduce sunlight and rainwater from reaching the ground, but they acidify the soil after they fall. Add to that the problem of surface roots, and the home gardener is left wondering whether there is anything that will grow under a conifer. This month is a good one to check out what's been successful under the towering White Pine in the Blair Garden. To our surprise and delight, three species of native groundcover have spread much more rapidly than expected. Look for the velvety, kidney-shaped leaves of Wild Ginger and the succulent vegetation of Wild Stonecrop, both of which break ground in spring but can remain green well past the growing season. You'll need to return in April to admire the maroon flowers of the former, and the white blossoms of the latter. Less robust, but truly evergreen, is the Partridgeberry with its tiny, ground-hugging leaves. Come back in June to see its equally diminutive pinkish blooms.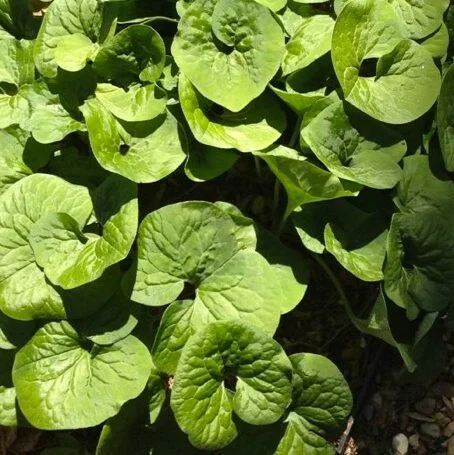 Wild Ginger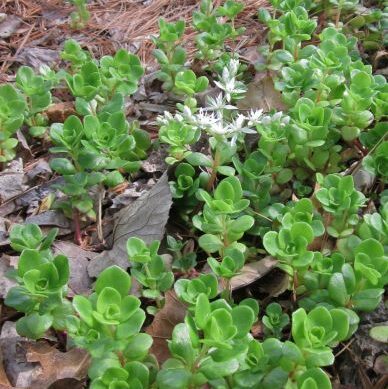 Wild Stonecrop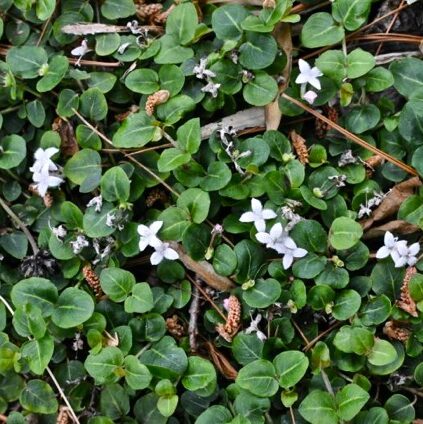 Partridgeberry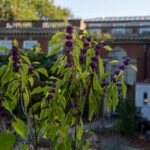 American Beautyberry
Winter
Once a few frosts have snuffed out the final blooms of the year, it's time to put the garden "to bed." With a native plant garden such as ours, that means thinning out the season's most successful species, while weeding out the last of the season's interlopers. Otherwise, we leave the Blair Garden standing. The botanical skeletons of summer, from short grasses to lanky Ironweed, serve as nature's granaries for Dark-eyed Juncos and other overwintering birds. When winds blow hardest, birds seek shelter in the dense cover of uncut stems, where well-camouflaged butterfly pupae attempt to pass the winter uneaten. Of course, there's the aesthetic aspect of a winter garden to savor: many seed heads look like dried flowers themselves, and the dominant hues of russet, buff, and brown contrast to perfect holiday effect with the fruits of Red Chokeberry and the evergreen fronds of Christmas Fern. Snow remains on the gravel paths until it melts naturally, so wear boots or look through the mesh deer fence to see how snow sets off the wintering plants.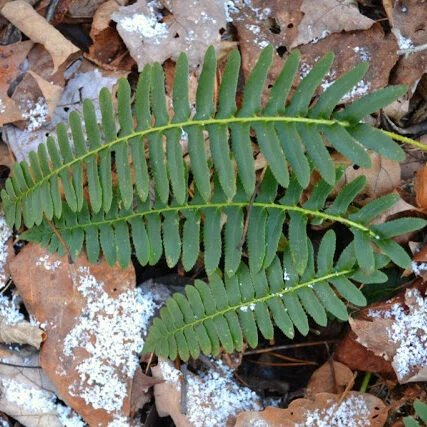 Christmas Fern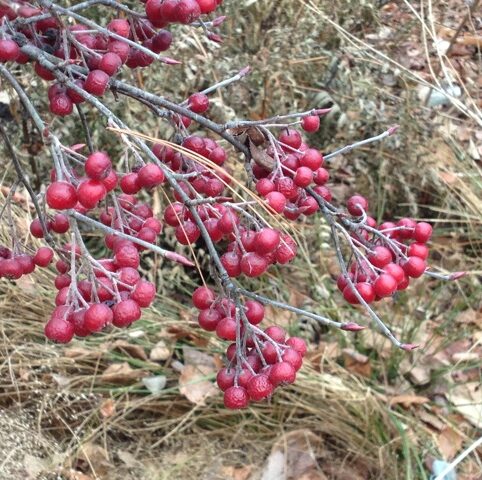 Red Chokeberry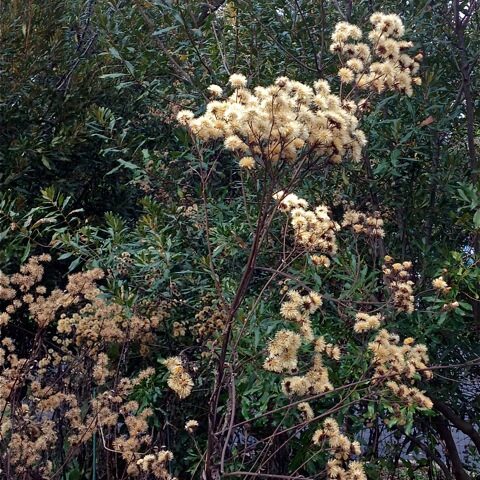 Ironweed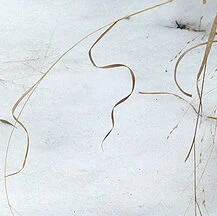 Switchgrass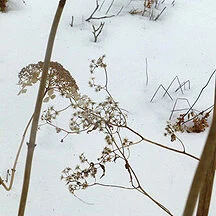 Wild Hydrangea & White Wood Aster
Free downloads and other resources:
Visit Woodend Sanctuary
8940 Jones Mill Road
Chevy Chase, MD 20815
Trails are open daily from dawn to dusk
Admission is free
If you are in Northern Virginia,
you also can visit our Rust Sanctuary
Thank you for leaving dogs and other pets at home