October. Fall Monitoring. Three incidents discovered and reported.
In the last blog ( "Equipping Our Community Scientists To Monitor Streams"), we briefly described Nature Forward's long-running Water Quality Monitoring ("WQM") community science program and the value it adds by generating stream health data and raising awareness about our waterways.
For nearly 30 years, WQM volunteers have also played a crucial role in protecting streams by serving as "eyes on the ground." They do this by observing, identifying and reporting potential threats.
Our government agency partners who are charged with safeguarding our streams and stream valley parks cannot possibly uncover all threats to water quality in the region. This is where our volunteers prove their mettle.
Each year, Nature Forward deploys nearly 200 WQM volunteers who visit 28 stream monitoring sites in teams of two to eight members three to four times a year (April, July and October, and optionally during the winter). We also continually train new volunteers. Not only are these individuals intimately familiar with their sites but most visit many other streams. Through training and experience, they know when something isn't right and they report incidents that might not otherwise be uncovered.
Back to the three fall incidents. The first, on Northwest Branch in Silver Spring, Maryland, was reported by Pete Yarrington. Pete and his team found an illegal dam which had been erected just upstream of his monitoring site. The dam was constructed of boulders, plywood and tarps. Pete, who is an aquatic ecologist, provided an inciteful appraisal of potential impacts of the dam on the stream's hydrology and aquatic macroinvertebrate community.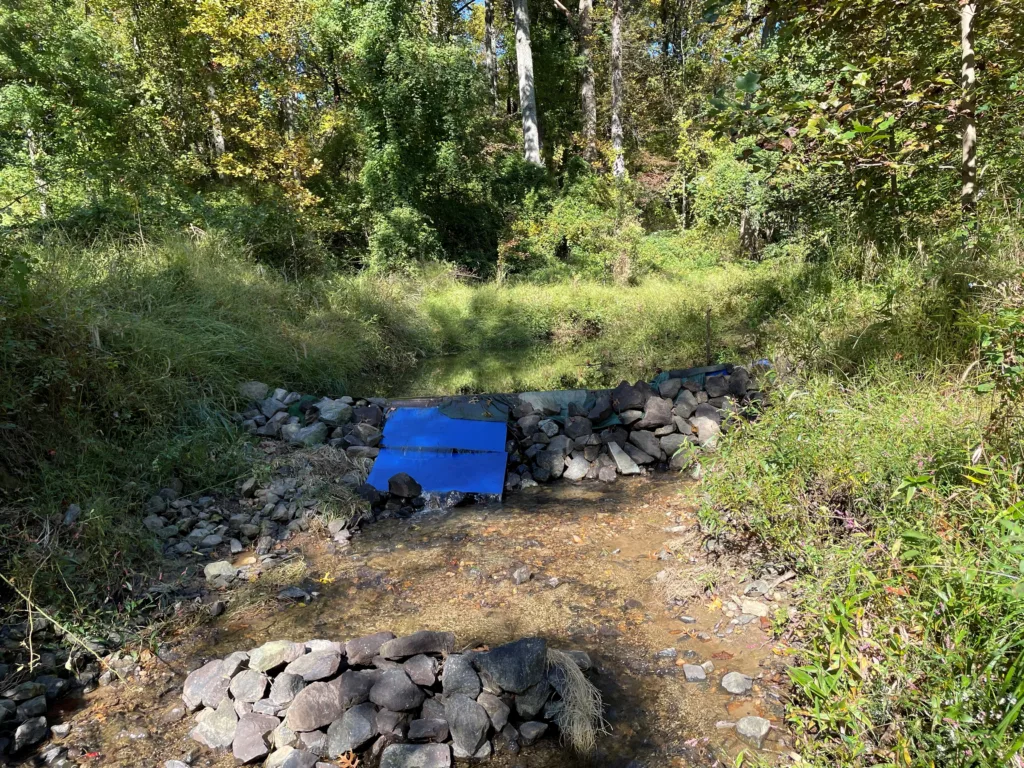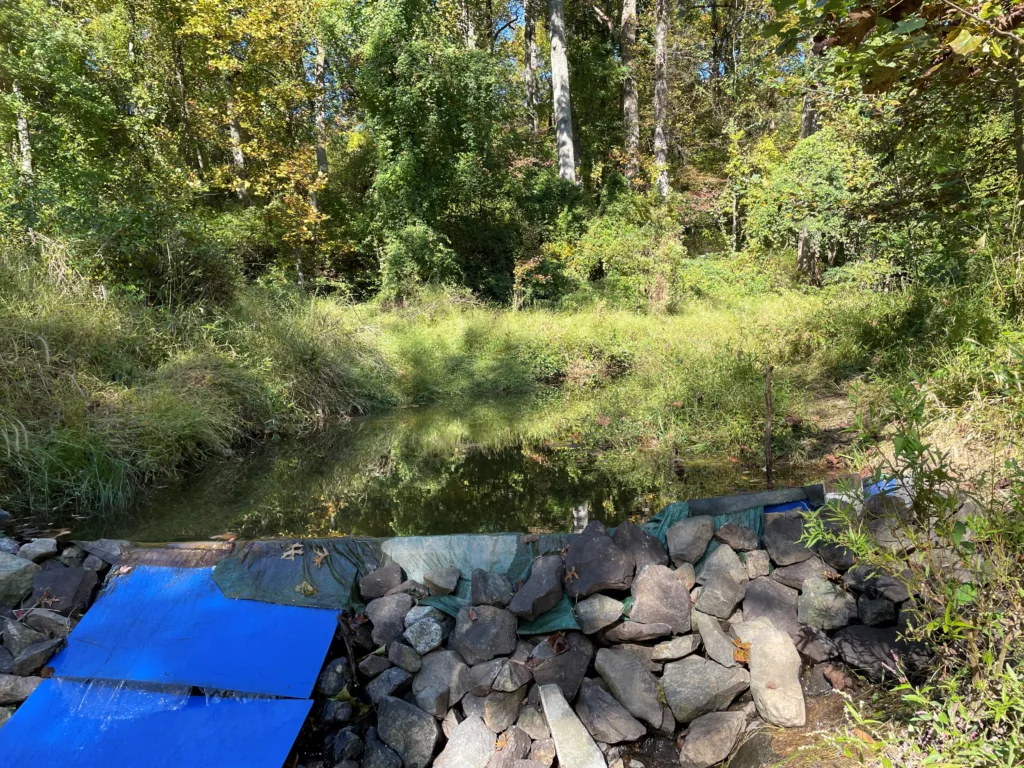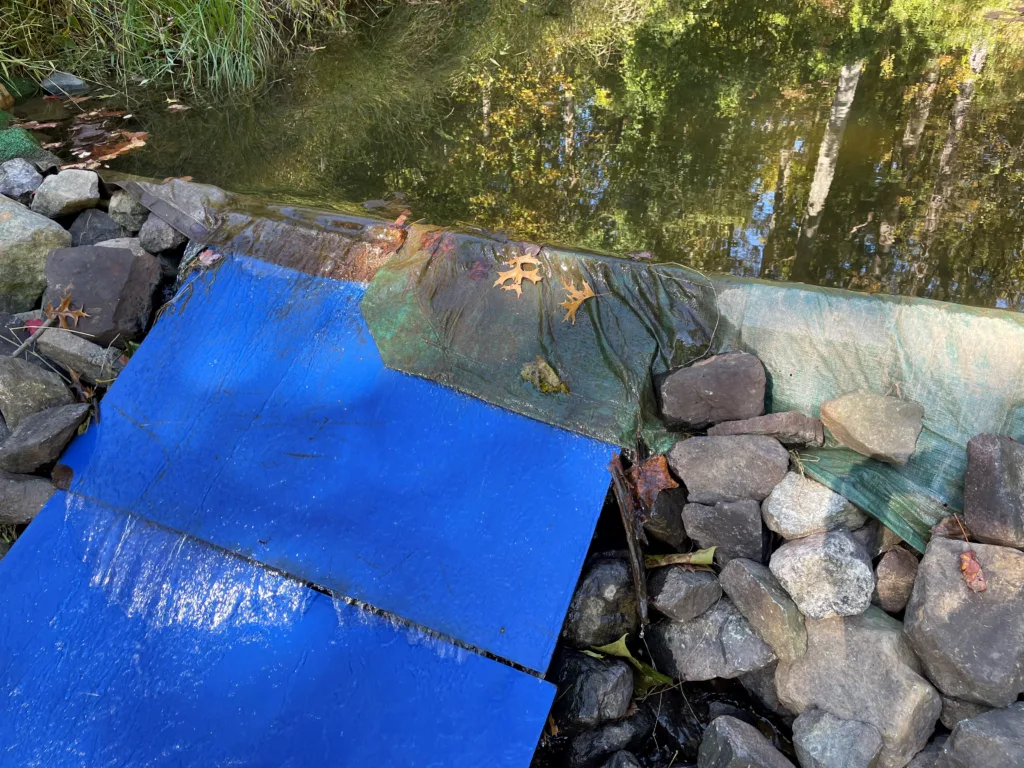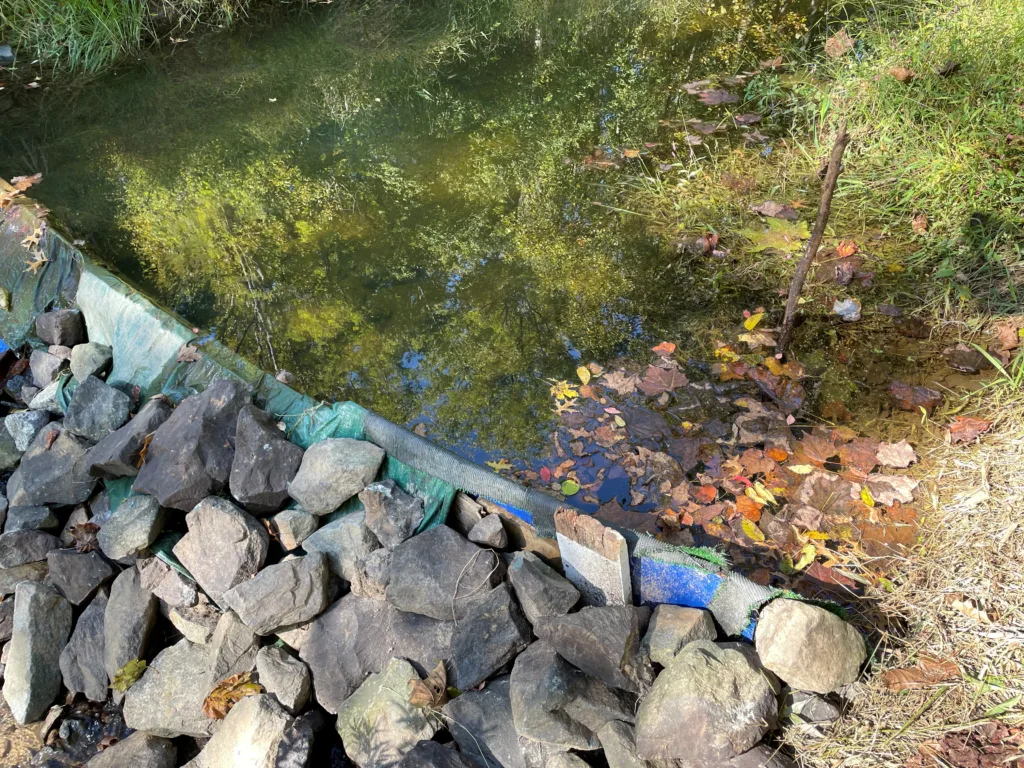 The second incident was reported along Little Falls in Bethesda, Maryland where a team organized by the Little Falls Watershed Alliance ("LFWA") was netting aquatic macroinvertebrates and needed to get out of the stream when the water level began to quickly rise. A flash flood on a sunny day? The surge spoiled the day's biological survey and delivered a large amount of fine sediment that covered the cobbles in the streambed. Which meant, the sediment covered the areas where the macroinvertebrates live – posing a serious threat to the biological community. This incident was reported by WQM volunteer Frank Sanford and LFWA Executive Director Sarah Morse.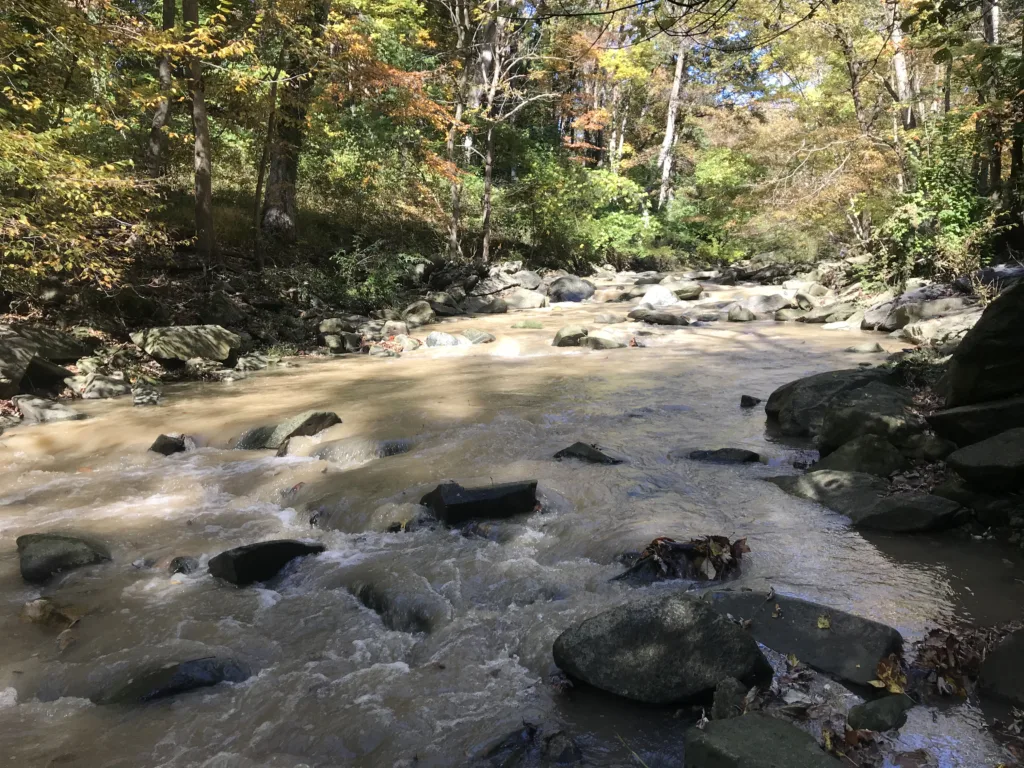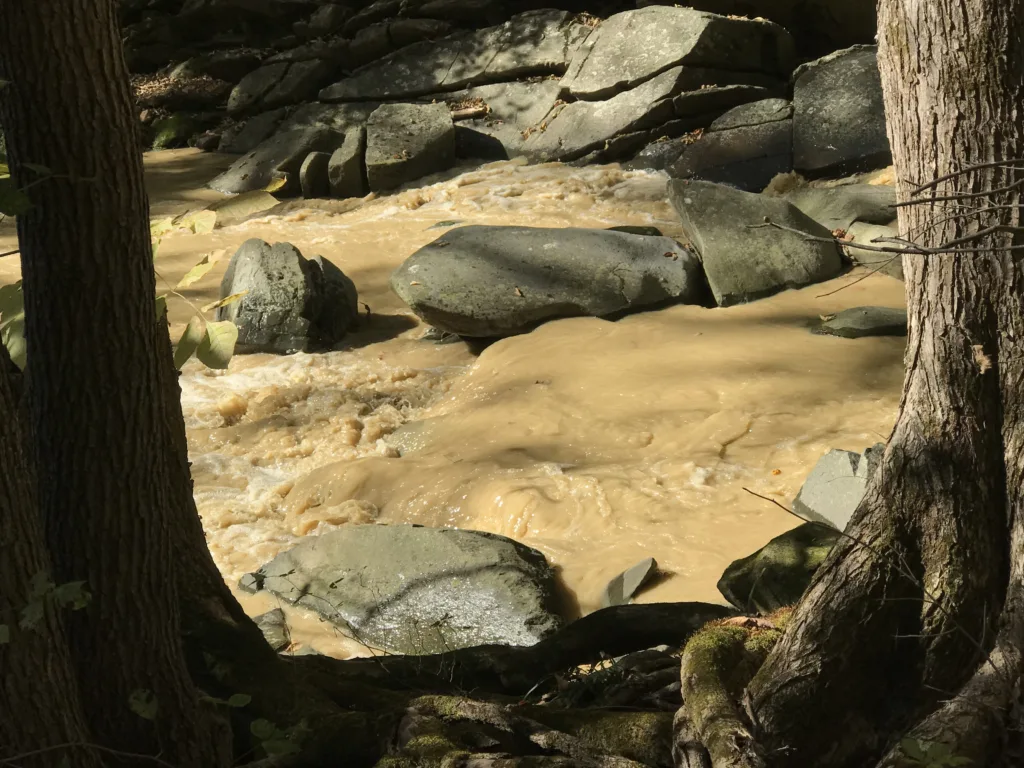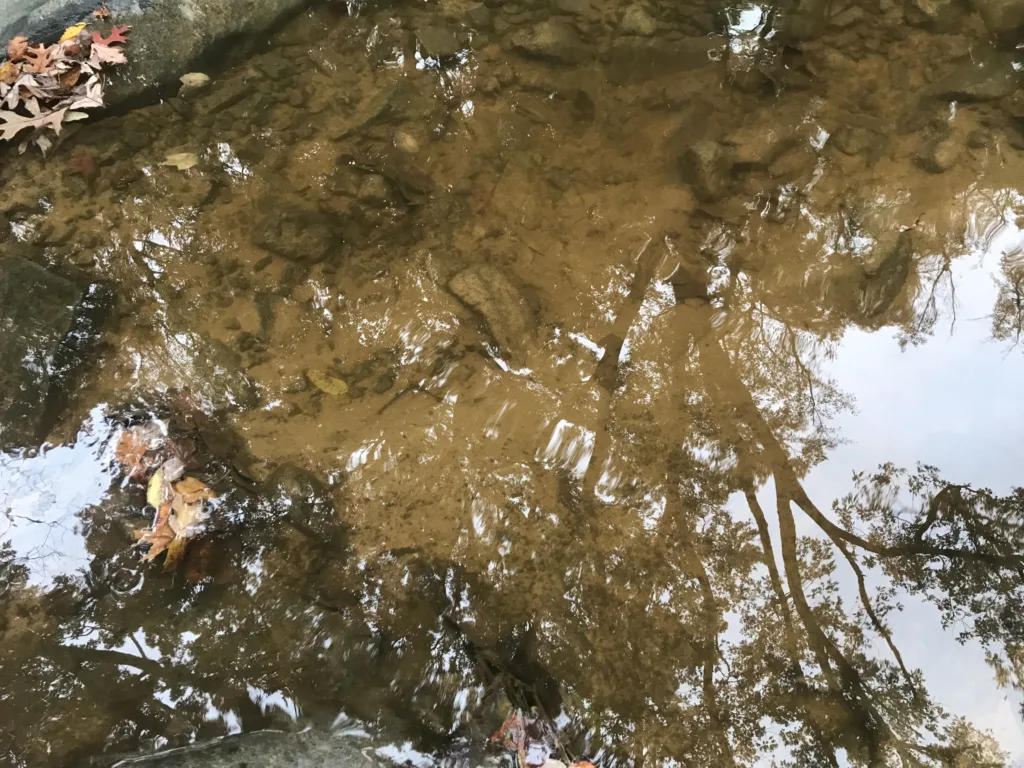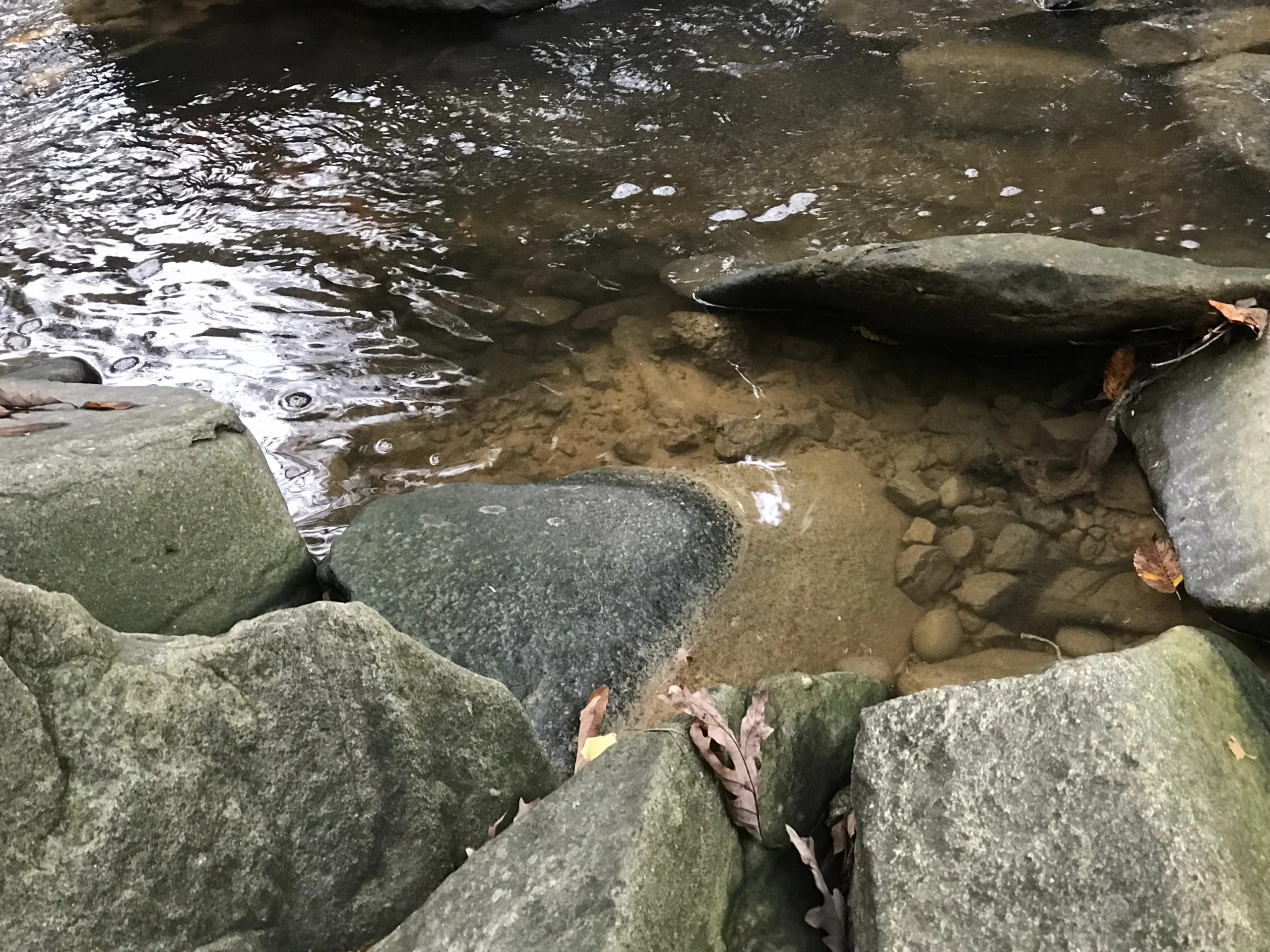 The third was reported by team leader Wendy Duke when her team headed to Little Bennett Regional Park in upper Montgomery County to monitor Dark Branch, a stream that should be safe from pressures faced by suburban streams in more densely developed areas. Wendy has been monitoring Dark Branch for over 12 years and has observed her stretch of the stream change in recent years, but still consistently score well when assessed using the Maryland Benthic Index of Biotic Integrity ("BIBI"). This past October, however, the team noted significant changes. In Wendy's words:
"The upper half of the reach ("UR") continues to be substantially impacted by sediment deposition. The stream now is approximately 1m wide for 95% of the UR. Because the channel is narrower, the stream is deeper and the riffling has decreased to about 5m on the UR. Because of the downed trees' crossing the UR, more sediment deposition is occurring downstream of the tree obstruction… The lower reach ("LR") hasn't changed much except that there was quite a bit of small gravel deposition on and between cobbles this time. Benthic macroinvertebrates (BM) diversity was not as good as previous monitoring visits. The collection did not yield an abundance of BMs as it had in the past… In general, BMs were on the smaller side." [Note: when the team's data was subsequently evaluated, it yielded the lowest BIBI score Nature Forward has recorded for this site. On a positive note, volunteers still found macroinvertebrates that are sensitive to environmental stressors.]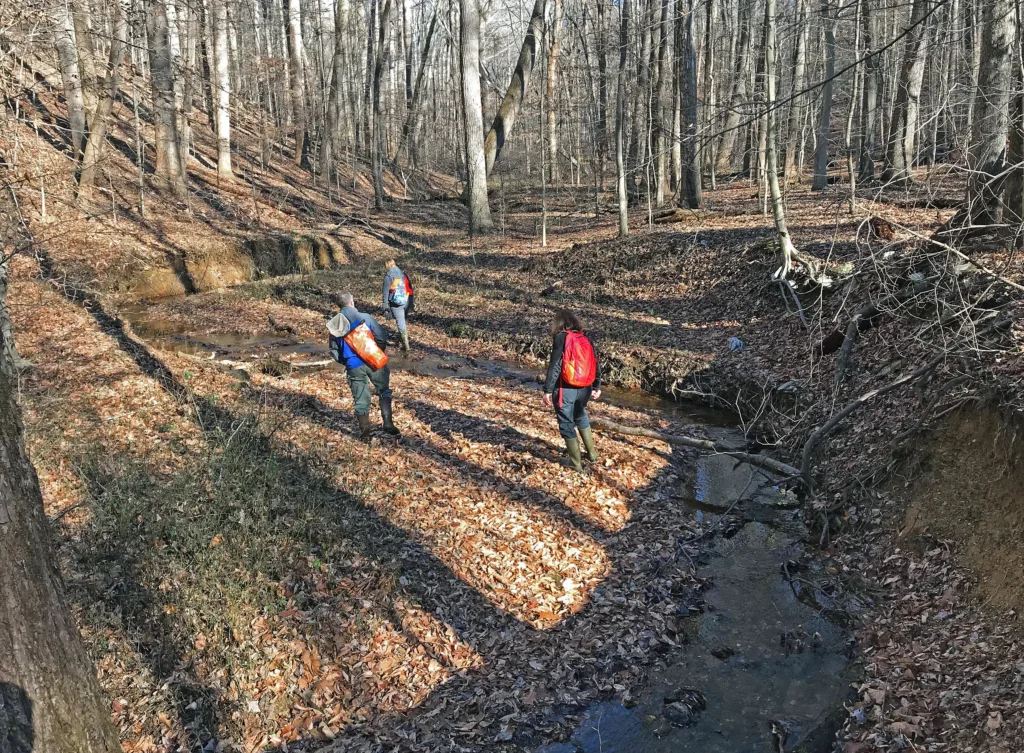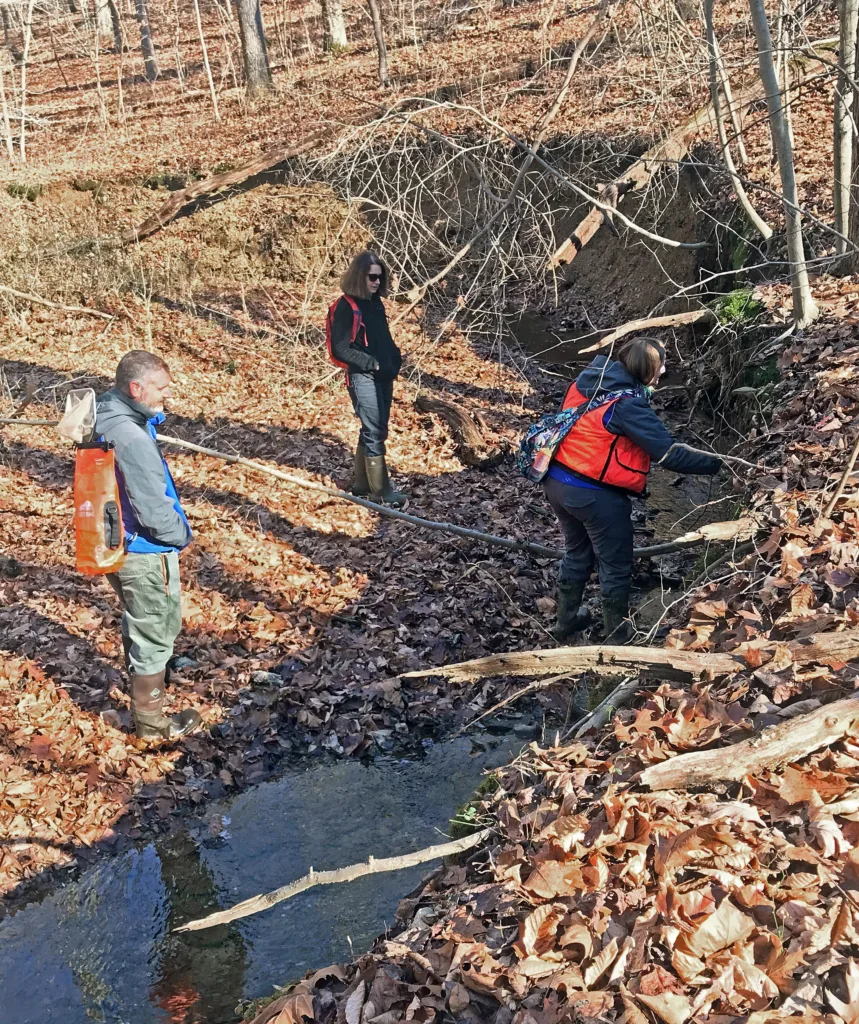 These incidents all occurred in Montgomery County, Maryland and were reported to Montgomery County Parks' Resource Analysis/Biological Monitoring group. The Northwest Branch dam was removed and the Little Falls incident was found to have been caused by a water main break at a construction site; both incidents are under investigation. Montgomery Parks staff members Rachel Gauza and Dave Sigrist met Wendy Duke and I at Dark Branch to look for the source of the sediments. Nothing definitive so far, but the investigation continues.
While talking with Pete Yarrington recently, he mentioned writing an article for the ANS News about another incident and describing the pride our volunteers take in serving as environmental watchdogs. Here is Pete's article from September 2001.
We are deeply appreciative of all who help protect our streams and serve as eyes on the ground.
---